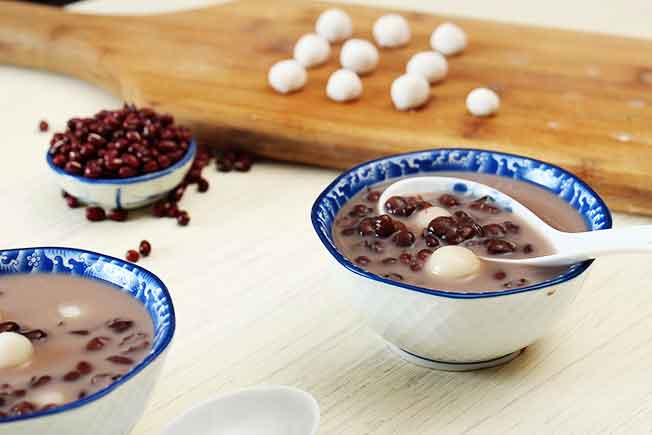 With winter temperatures hovering just below freezing, I crave something warm even when I'm huddling under blankets. Chinese sweet soups are relatively healthy since they are pretty much fat-free and can be made with very little sugar. After days of overindulging with cookies and cupcakes loaded with butter and sugar, I craved a lighter snack so this was perfect.
But then, that can of sweetened condensed milk seemed perfect to make it a little richer and tastier. So I put it in instead of sugar. Just a little won't hurt right? Right!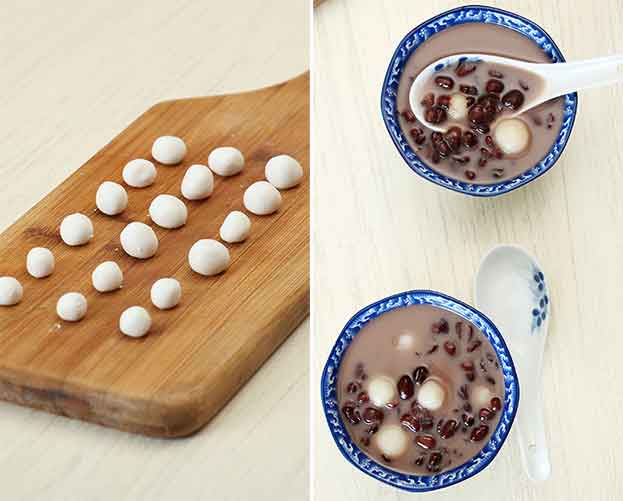 And I remembered the half cup of glutenous rice flour left and joyfully made them into the easiest chewy little balls.
I made them roughly the same size. Roughly, so they look hand-made. Cute, kindda round, and definitely delicious.
Red Bean Soup (紅豆湯小湯圓)
Ingredients
Red Bean Soup
1/2 cup Red Beans (Azuki beans)
2.5 cups Water
Sugar, to taste (or Condensed Milk for a slightly creamier version)
Glutenous Rice Ball (makes about 20)
1/2 cup Glutenous Rice Flour
2 Tbsp Water
Directions
Red Bean Soup:
Soak the red beans overnight in 3 cups of cold water
Rinse the soaked red beans in cold water
Heat the red beans and 2.5 cups of water on high until water boils
Turn the heat to a very low simmer and cook for 1 hour
Taste test to make sure the beans are cooked through
Sweeten to taste
Glutenous Rice Ball:
Mix all ingredients together and keep mixing until it starts to form a dough ball then knead until it comes together well
Cook in a pot of boiling water for 5-8 minutes until soft and cooked through. They will start to appear a bit translucent