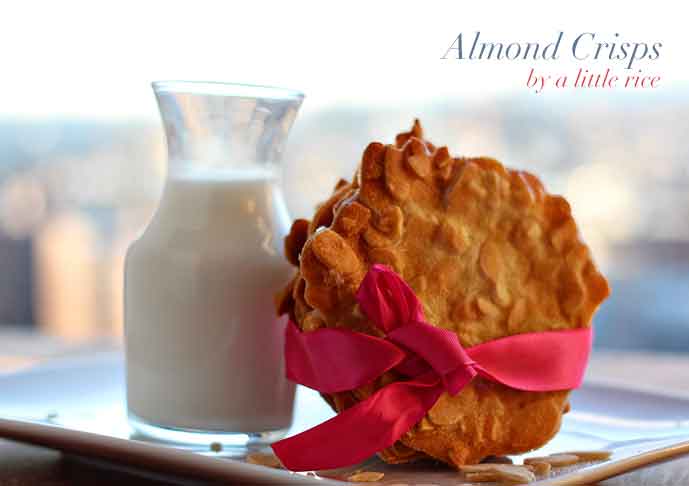 These crispy and nutty cookies are the easiest cookies I ever baked. Ever. Just mix all the ingredient together, spread the batter onto a cookie sheet and bake. The cookie consists of mostly sliced almonds which toast to a golden crisp in a short 10 minutes.
This recipe is based on one of my favorite blogs "Home Economics". The blogs is wonderfully instructional and has fantastic recipes but most are quite advanced. So when I saw the simplicity in this recipe, I knew I have to try it. Some of her original posts are volunteer-translated into English here.
These cookies are so delicious and beautiful. I bet they will make a great holiday gift.
Almond Crsip (香脆杏仁餅乾)

Makes about 10 cookies • Recipe can be easily scaled up

Ingredients
33g Egg White (1 egg white)
33g Sugar
13g Vegetable oil
10g All purpose flour
66g Sliced almonds
Directions
1. Mix everything together
2. Make 1 tablespoon heaps on a lined cookie sheet
3. Spread the batter so the almonds don't overlap
4. Bake at 400F for 10 minutes
Note: These cookies will stick to the cookie sheet if unlined or un-greased. So make sure it is lined or well-greased.
Note2: If the edges of the cookies are brown but the center is still pale, then lower the oven temperature and bake for a bit longer. Or you can leave them like this. The edges will be crunchy and the middle slightly chewy.