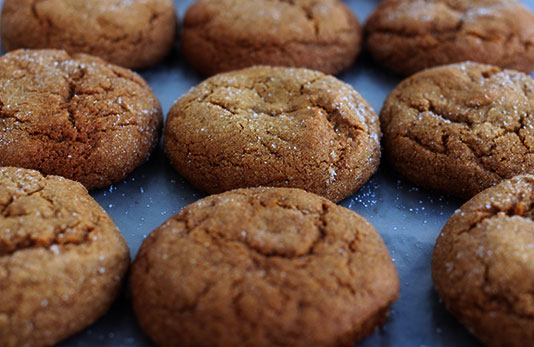 I never paid molasses cookies much attention until my brother volunteered to bake these from scratch for a dinner party. My brother? He, who would rather eat cereal for dinner than make an easy pasta, wants to bake cookies from scratch? Apparently he ate half-a-dozen of these cookies at a Church holiday bake sale the day before and still wanted more. That definitely piqued my interest.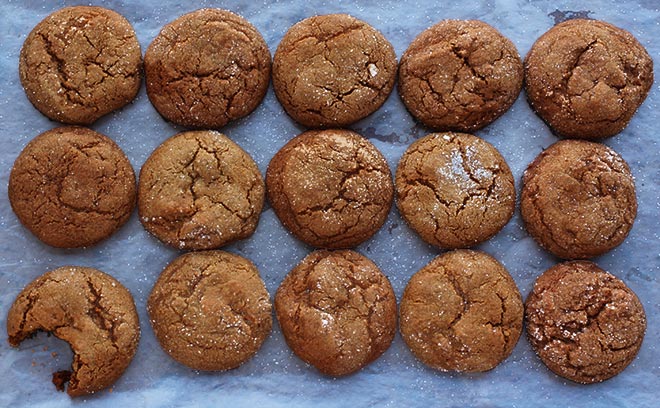 So we ended up baking around 2 dozen cookies. Chewy, delicious and full of warm spices, these cookies must have been invented for Christmas. Just out of the oven they are warm, soft and fill the apartment with the smells of cinnamon, ginger and molasses. As they cool they become chewy with a slight crunch from the sugar coating. The four of us ate all the cookies that same night – after we ate a full dinner.
This is my first time adapting a recipe from Bon Appetit.
Chewy Molasses Cookies
Makes 24 cookies
Ingredients
Dry Ingredients:
2 cups all-purpose flour
2 teaspoons baking soda
1½ teaspoon ground cinnamon
1 teaspoon ground ginger
½ teaspoon ground nutmeg
¼ teaspoon ground white pepper (optional)
½ teaspoon kosher salt
Wet ingredients:
1 large egg
7 tablespoon (1 stick minus 1 Tbsp) unsalted butter, melted
⅓ cup granulated sugar
⅓ cup molasses
¼ cup dark brown sugar
Rolling sugar:
Sanding or granulated sugar
Directions
Heat oven to 375°F.
Whisk together all dry ingredients. Then whisk together all wet ingredients in a separate bowl.
Mix wet and dry ingredients together until just combined.
Place rolling sugar in a shallow bowl
Scoop out dough by the tablespoon full and form into balls. Roll dough balls in rolling sugar to coat. Place 2″ apart on baking sheet.
Bake until cookies are until cookies are "puffed, cracked, and just set around edges," about 8 minutes.