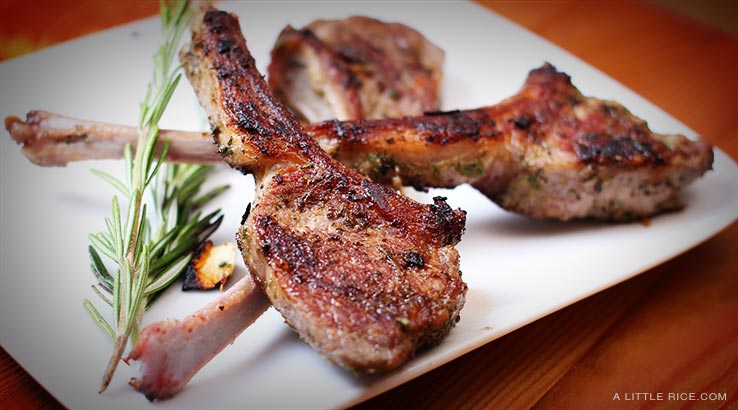 This picture makes me drool. It's not the best picture since I was in a hurry to eat the chops that smelled sooo good, but it reminds me of how delicious those lamb chops were. We wanted a special and indulgent New Year's Eve dinner and these delicious rosemary thyme lamp chops definitely met the bill.
We made 9 chops which is probably more like 4 servings but the joys of only having 2 people means we can eat it all! And a huge pile of mashed potatoes and broccoli.
I was a bit daunted by the seemingly large quantity of herbs used in this recipe, but it turned out really fragrant and doesn't perfectly complements the juicy lamb. I also sauteed a bit of garlic with the lamb, which fried to a golden crisp just when the lamb finished.
Rosemary Thyme Lamb Chops
Makes 8 lamb chops • Adopted from Giada De Laurentiis' recipe
Ingredients
5 large garlic cloves, crushed
1.5 tablespoon fresh rosemary leaves
1 teaspoon fresh thyme leaves
Pinch of coarse sea salt
3 tablespoons extra-virgin olive oil
8 lamb chops
Directions
Mix 3 cloves of garlic, all the rosemary, thyme, salt and olive oil together and blend until it becomes a paste
Cover the lamb chops all over with the herb paste and let marinate in the refrigerator for an hour
Remove the lamb chops from the frig and let it come to room temperature (about 20 minutes)
Heat a skillet until very hot and spray a bit of olive oil, add 2 cloves of garlic and lamb chops to the hot pan. Cook the lamb chops for 3 minutes on one side then flip and cook for another another 2.5 minutes on the other side. Flip the garlic when flipping the lamb too