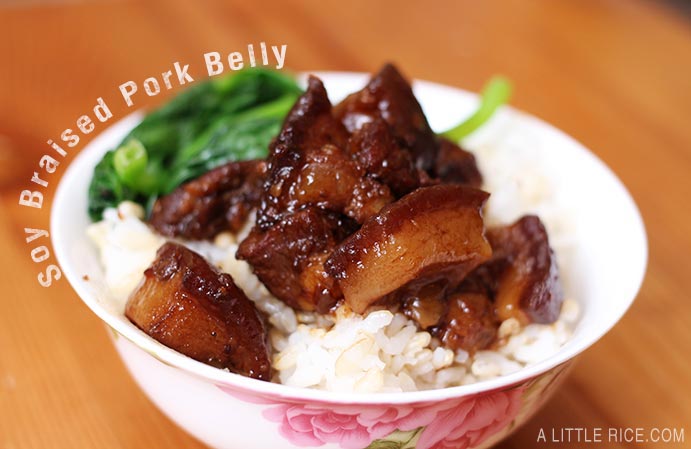 Lu-Rou-Fan (Soy Braised Pork with Rice) is one of the most popular dishes in Taiwan. It's salty, slightly sweet, has a delicious sauce and goes extremely well with rice. Made with pork belly and slow braised for an hour, the meat becomes melt-in-your-mouth tender and the sauce becomes slightly thick and full of flavor. I can easily eat 2 bowls of rice with the sauce alone.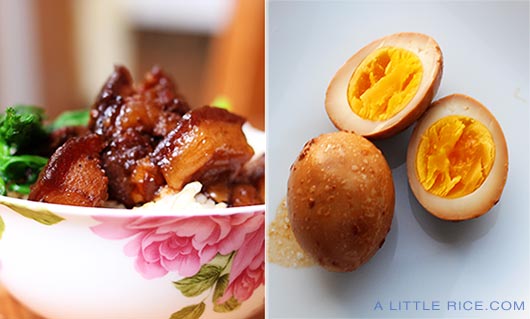 An added bonus to this dish is the easy soy-eggs braised in the pork sauce. My version is non-traditional but results in a soft-cooked egg yolk instead of the dry and grainy egg yolk typical of soy-eggs. K doesn't like uncooked egg yolks, but otherwise the yolk can be cooked even less. My method is to soak soft-cooked eggs in the braising liquid rather than cooking them.
I made this dish with pork belly (make sure to buy it with the skin on!), but it can also be made with minced pork (won't taste the same though). Most of the fat is melts out of the pork during the cooking process so it's not overly fatty when finished.
Soy Braised Pork Belly (滷肉飯加滷蛋)
Makes 4 servings

Ingredients
1.5 lbs Pork Belly
3 cloves of Garlic, crushed
4 heads of Shallots, minced
¼ teaspoon Ground White Pepper
⅛ teaspoon Five Spice Powder
¼ cup Soy Sauce
¼ cup Rice Wine
1 Tablespoon Rock Sugar *
½ cup Water
Directions
Soy Braised Pork
1. Cut pork belly into ½ inch thick slices then into ½ wide strips
Heat pot and brown pork belly with shallots and garlic
Add white pepper and five spice powder and cook until fragrant
Add soy sauce, rice wine, rock sugar and water; cook until boils then lower heat to a simmer and cook for an hour
Braised Egg
Remove eggs from refrigerator and leave outside for 20 minutes or until they become room temperature
Boil water then cook the eggs in rapidly boiling water for 9 minutes
Soak eggs in cold water to stop the cooking
Peel the eggs and soak them in the finished pork braising liquid for at least 6 hours or best for 1 day. The liquid can be warm or cold
* Note: Granulated sugar can be used instead of rock sugar, but the amount needs to be reduced to 2 teaspoons.