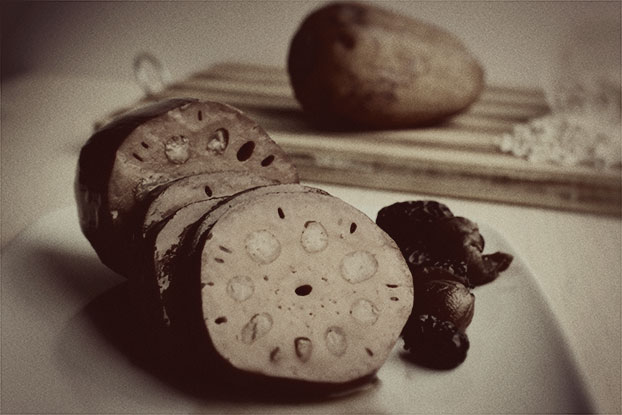 I first had this dessert in China on a trip with my grandmother to visit her home town in Hangzhou. Lotus roots are a popular ingredient in the region and we had many dishes both savory and sweet with it, but this one is my favorite. Eaten raw, lotus roots are crisp and have a mild flavor. Even after cooked for hours in this recipe, it holds its shape and has a firm texture.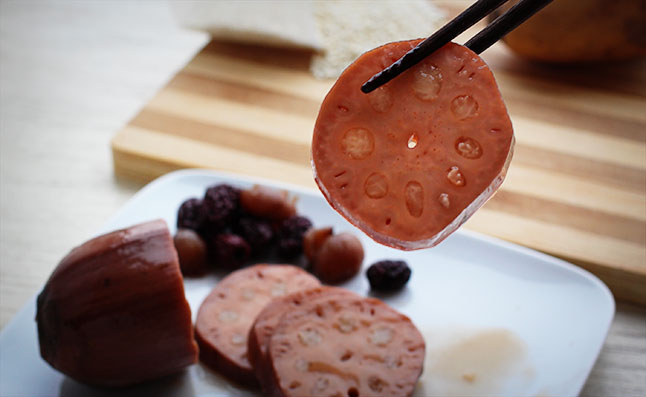 My favorite part of the dish are the sticky rice, which are sweet and absorbed the fragrance of the lotus roots. When filling the rice, the lotus root only needs to be filled about 80% as the rice will expand as it cooks. If the rice seems to be stuck near the top, cover the top and give it a shake or tap it on the table to help evenly distribute the rice. This dish isn't hard to make, it just takes lots of patience over the 6 hour cooking time.
Lotus Root with Sticky Rice (冰糖蓮藕)
Makes 3 servings

Ingredients
½ cup Sticky Rice
2 Lotus Root sections
2 Tbsp Rock Sugar*
Handful of dried Chinese dates and dried Longan
Directions
Wash then soak the sticky rice in water for at least 2 hours or overnight
Wash and peel the lotus roots sections. Cut off 1/2 inch of the top and save it as a cap
Fill the lotus roots about 80% full with the soaked sticky rice. Tap and shake as needed to help the rice distribute evenly.
Secure the cut-off tops of the lotus roots back on with 2 toothpicks as a cap
Place the Lotus roots into a pot of cold water and bring to a boil then turn the heat on low and cook for 3 hours
Add the sugar and dried fruits. Cook for another 3 hours on low until the sauce thickens.
Remove from pot and let it cool a bit before slicing into thick slices. Serve warm or cold with honey, the thickened syrup and cooked dried fruits.
* Note: Rock sugar can be substituted with normal sugar just decrease the amount by 1/4.