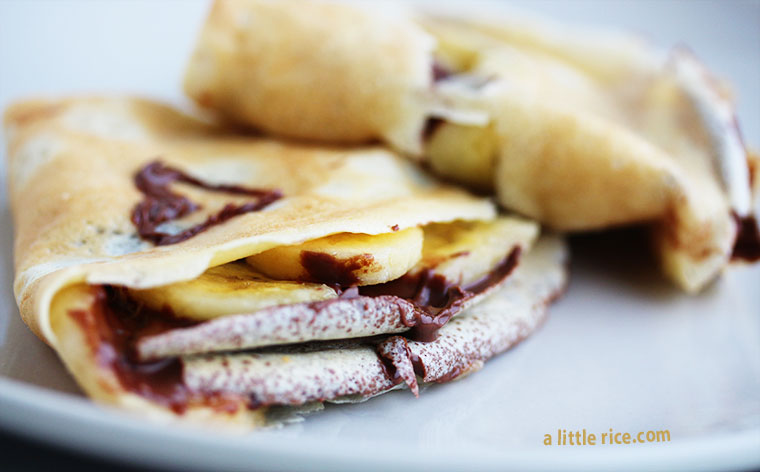 Happy World Nutella Day!! I love Nutella. Love. Nutella stole my heart in college and I devoured jar after jar by simply eating it with a spoon. It probably contributed heavily to my freshman 15. But my love for it never wavered.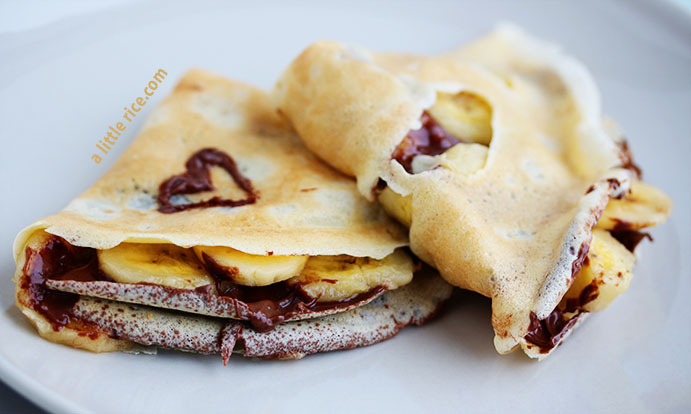 Have you never heard or tried Nutella?! It's a delicious hazelnut and cocoa spread in a jar. It's good with toast, graham crackers, crepes, cookies, cupcakes, brownies, french toast, waffles, tarts, eclairs, and, well, everything!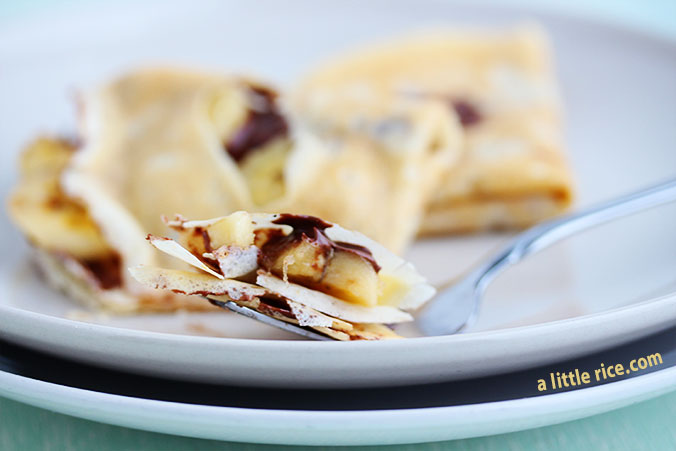 In celebration of World Nutella Day, I decided to make one of my favorite foods – a Nutella and banana crepe. I'm surprised it has taken me so long to attempt making crepes since I love them so much. Perhaps it's the delicate batter, the lack of a crepe pan which everybody seems to use or the mastery skill I saw the chefs possess when cooking them in Paris. Whatever it was, I'm glad I tossed aside the hesitation and made these delicious crepes. It was much easier than I expected once I figured out how to swirl the pan to quickly coat the bottom in a thin layer. Luckily, even my less successful attempts yielded a cute window into the folded crepe and they were equally delicious.
The same batter can be used for lots of savory or sweet variations, such as lemon sugar, strawberry and cream, nutella banana, ham and cheese, mushrooms and cheese.
Nutella Banana Crêpe
Makes 12 crepes • adapted from Alton Brown's recipe

Ingredients
Crepe batter:
2 eggs
3/4 cup milk
1/2 cup water
1 cup flour (120 grams)
1 Tablespoon butter, melted
Nutella banana filling:
2 teaspoons Nutella, for each crepe
1 banana sliced, for 3 crepes
Directions
Blend all the ingredients for the crepe batter in a blender until well mixed. Then store in the refrigerator for 1 hour or up to 3 days.
Heat a non-stick pan on low heat. Ladle 1 oz of batter into pan and quickly swirl it around to cover the entire bottom of the pan. Cook for 1 minute or until the bottom is light brown then quickly and gently flip over the crepe. Cook for another 45 seconds or until it is lightly brown and cooked through. Remove from the pan.
Spread the Nutella on half of the crepe and place banana slices over the Nutella. Fold the empty half of the crepe over then fold in half again.
Serve and eat!
*Repeat steps 1 and 2 to make additional crepes.