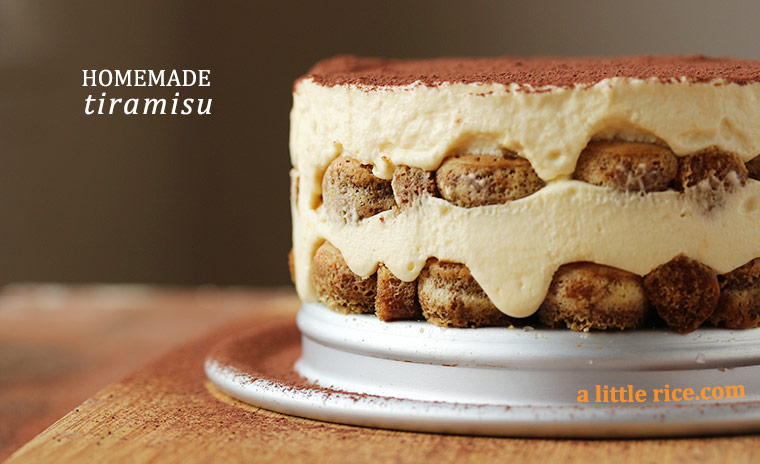 Delicious homemade Tiramisu is the best Thanksgiving dessert. Yes, I declare it even better than my previous favorite pumpkin cheesecake or sweet potato marshmallow pie.
We usually make tiramisu using yellow sheet cake, but I instantly grabbed a bag of lady fingers when I saw them at the supermarket. Albeit almost equally delicious, authentic tiramisu is made with lady fingers and Masscarpone cheese instead of Betty Crocker yellow cake and cream cheese. This version is even better than many I've tasted at Italian restaurants.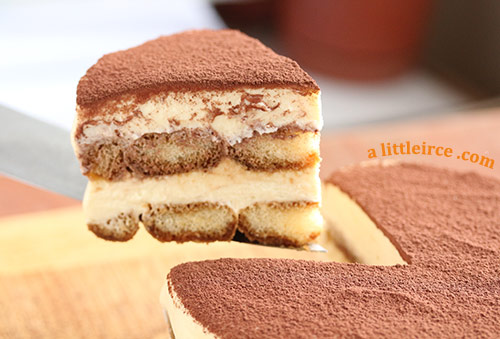 K proposed using the spring form cake pan so the side ring can be easily removed for slicing. It turned out to be a fantastic idea. The round shape was a little time consuming to fill with lady fingers, but I think it's totally worth the effort.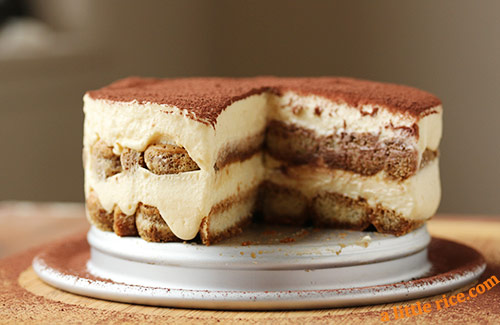 This is best made a day ahead as the flavors meld together over time and taste even better overnight.
Tiramisu
Makes 4 generous servings (8-inch cake pan)

Ingredients
3 egg yolks
1/4 cup sugar
1/2 lb Masscarpone cheese
3/4 cup heavy cream
One 3oz package of Italian Lady Fingers
1/2 cup cold espresso
3 Tbsp coffee flavored liqueur or rum (optional)
1/2 Tbsp cocoa powder for dusting
Directions
Combine egg yolks and sugar in the top of a double boiler, over low simmering water. Cook for about 10 minutes, stirring constantly.
Remove eggs from heat and whip until light yellow in color.
Add Masscarpone cheese into eggs and mix until combined.
In a separate bowl, make whipped cream by whipping heavy cream to stiff peaks.
Gently fold the whipped cream into the Masscarpone/ egg yolk mixture.
Combine the espresso and coffee liqueur in a flat bottom bowl / pan then dip each side of a lady finger in for a total of 5 seconds. Soaking the lady fingers too long causes them to fall apart!
Place the lady fingers tightly in a single layer into a round 8 inch spring form cake pan. Cut up lady fingers into smaller pieces to fit into empty spots.
Spoon half the Masscarpone mixture over of the lady fingers.
Repeat the process to build a second layer of lady fingers and Masscarpone mixture.
Cover the cake pan and place into the refrigerator for 4 hours or overnight.
Remove the spring form cake sides and dust the top with cocoa powder before serving.