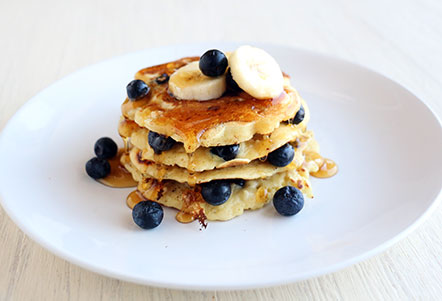 It's the weekend! What's the best way to kick off an awesome summer weekend? A big delicious stack of fluffy blueberry pancakes dripping with golden maple syrup! With a side of crispy bacon and a perfect sunny-side-up egg, please. I love blueberry pancakes, banana pecan pancakes, old fashion pancakes – any kind as long as they are fluffy and topped with toasted pecans and golden maple syrup.
I've tried lots of different recipes found all over the internet claiming to be the best pancake recipe. But I really fell for Mark Bittman's simple and fluffy Everyday Pancakes.
Mark Bittman is right. The key to fluffy pancakes is to stir the pancake mix as little as possible. I learned that those impossibly-large-looking lumps of pancake mix will magically disappear as the pancakes cook.
Give it a try – It's a great way to start off a weekend or any day!
[Update] Baking soda only works well with acidic ingredients like buttermilk, yogurt or sour cream. Since this recipe doesn't have any, adding it doesn't really help. The sugar helps the texture and fluff of the pancake so it's no longer optional.
Important! Cook the pancakes as soon as the batter comes together while the bubbles from the first rise of the baking powder haven't deflated.
Best Blueberry Pancakes Ever [Updated]

Serves 2 Based on Mark Bittman's Everyday Pancakes recipe
Ingredients
1 cups all-purpose flour
1 teaspoon baking powder
1/4 teaspoon baking soda
pinch of salt
1 teaspoon sugar, optional
1 egg
3/4 cup to 1 cup milk
1 Tablespoon olive oil, optional
splash of vanilla extract
1/2 pint of blueberries
Directions
Mix the flour, baking powder, baking soda, salt and sugar together in a bowl. Wisk to combine evenly.
In a separate bowl, mix the milk, egg, olive oil and vanilla extract. Wisk to combine evenly.
Heat the pan or griddle and spray a little oil on the pan or griddle. Then turn heat to medium low.
While the pan is heating, add the flour mixture into the milk mixture and use as few strokes as possible to moisten flour mixture. There will be some large lumps, but just leave them.
Now leave the mixture for 10 minutes. Or proceed to next step if you're short on time. They'll still be delicious. Cook the pancakes immediately after making the batter.
Pour 1 oz of batter into the hot pan and add a bunch of blueberries into the batter and gently tap them into the batter with your spatula. Or make whatever size pancake you love.
Flip the pancake when bubbles start to appear in the middle. You can peak under the pancake by lifting a corner to make sure they're golden brown first.
Wait 15 seconds then peak again to make sure the pancake is golden brown on the other side.
Remove the pancake and start cooking the next one!
Layer some blueberries between the pancakes and top with even more blueberries for blueberry heaven.