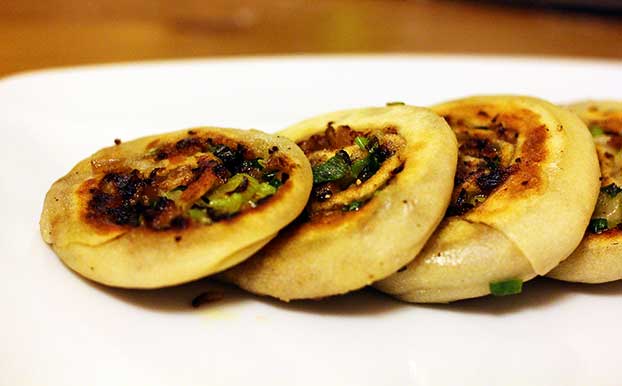 I love scallions and I love scallion pancakes. These mini pinwheel pancakes have the same delicious layers of fragrant scallions with sesame oil, but take less than half the time to make than scallion pancakes. The extra peppery pork gives another layer of savory flavors that keeps me making them again and again.
Traditional scallion pancakes are rolled out individually, coiled then rolled out again for its signature layers. These buns are rolled out just once, cut up then slightly flattened making them more like a pinwheel than a pancake.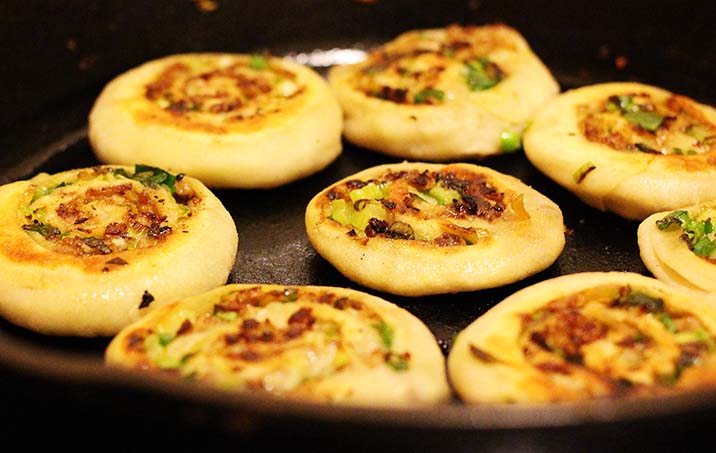 These pinwheels are made by mixing hot water and flour, which gives them a softer texture than using cold water. Just make sure to wait for the dough to cool a bit before kneading. They are finished by toasting them in a bit of oil in a pan to a nice golden crisp.
Scallion Pepper Pork Pinwheels (肉末黑椒蔥燒餅)

Makes about 18 small pinwheels
This recipe is originally by 小米桶, whose blog I visit regularly and love dearly. Her website has a detailed picture walk-through for each step.
Ingredients
Dough:
400ml Flour
175ml Boiling water
Filling I:
1 cup minced Scallion
3 Tbsp Sesame oil
1 tsp Black pepper, cracked
Filling II:
100g minced Pork
3 cloves Garlic, smashed and minced
1 small Onion, diced
1 Tbsp Soy Sauce
1/4 tsp Sugar
pinch of Salt
Directions
1. Make the dough by mixing flour and water together with a rolling pin. Wait until it cools enough to handle then knead into a smooth dough ball.
2. Cover the dough ball with a damp paper towel and let rest for 20 minutes. Prepare filling II while the dough is resting.
3. Heat pan then brown minced pork and garlic. Add in soy sauce, sugar and salt then mix well. Add in onion and cook until onions are translucent.
4. Mix together all the ingredients in Filling I.
5. Evenly divide the dough in half. Slightly flour the work surface then roll out one of the dough balls into a large flat rectangle about 0.2 – 0.3 centimeters (yes, very thin).
6. Spread a thin layer of oil onto the dough then sprinkle on some salt and pepper.
7. Then spread roughly half of Filling II evenly over the dough then spread half of Filling I evenly over the dough. Make sure to leave about 1/2 inch of dough empty at the end (for sealing up later).
8. Then slowly roll up the dough from the longer side into a thick cigar shape. Gently press the end (1/2 inch of empty dough) into the side to seal the roll.
9. Cut the roll into about 8 pieces and slightly flatten each with the palm of your hand.
10. Heat pan with a teaspoon of oil and toast each pinwheel until golden on both sides.
11. Repeat steps 5 to 10 with remaining dough.
Enjoy!