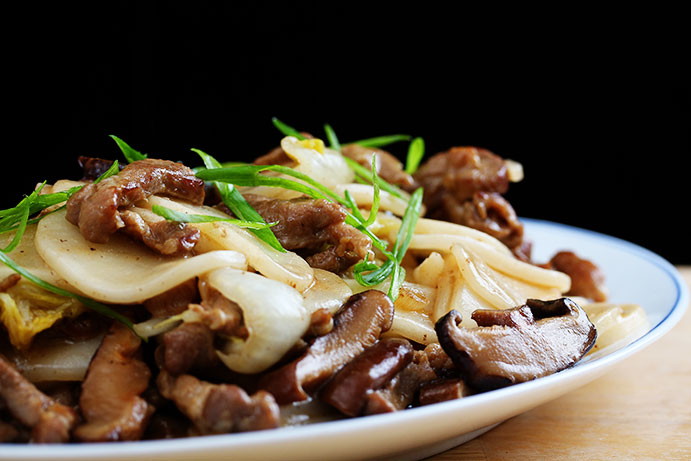 Happy Chinese New Year! The Lunar New Year is one of the most important holidays in Chinese culture. Similar to Christmas it is celebrated with lots of food, drink, family time and gifts (red envelopes stuffed with cash – no change of receiving an unwelcome gift!).
The iconic new years dishes to me are the savory and sweet sticky rice cake dishes. The sweet sticky rice cakes can only be found around new year, but the savory sticky rice cake dish has become very popular and can be ordered all-year round in restaurants. I love the soft and chewy texture of the sticky rice cakes and recreated this savory version for new years.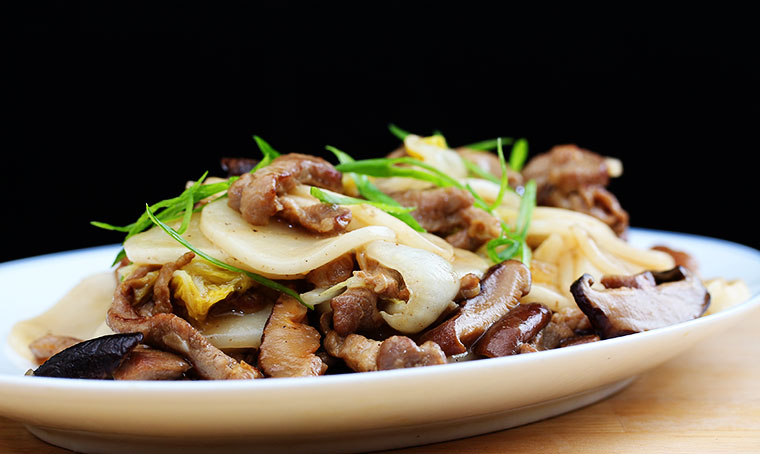 The sticky rice cakes are sold in the refrigerated aisles of Asian supermarkets. The Korean version are cylindrical while the Chinese version are flat long ovals. They are pretty hard when cold but will soften into supple chewy slices after soaking in hot water for about 5-10 minutes. It's possible to cook the rice cakes directly with the rest of the ingredients in the pan by adding hot water, but I find it easier to soak them in hot water beforehand.
This version of the dish is made with Chinese cabbage and pork marinated in soy sauce and rice wine; and is generally referred to as the Shanghai Stir Fry Sticky Rice Cake.
Stir Fry Chinese Sticky Rice Cake (上海炒年糕)
Ingredients
1.5 cups sticky rice cake slices
3 or 4 dried mushrooms, soaked in water for 30 minutes then sliced
3 slices of ginger
3 cloves of garlic, minced
1.5 teaspoons of soy sauce
½ teaspoon of rice wine
1 Tablespoon of oyster sauce
1 pound of pork, inch cut into 1½ strips
6 large leaves of Chinese Cabbage, washed and stems cut into ½ strips and leaves cut into 1 inch strips
1 scallion, cut into strips
Directions
Marinate pork strips with soy sauce and rice wine
Boil a pot of water then turn off the fire and add the sticky rice cake slices
Heat pan and add oil. When pot is hot add garlic and cook until fragrant then add pork strips. Try to spread pork strips evenly in a single layer and cook until brown then flip and cook until the pork is brown on the other side. Remove from pan.
Add a bit more oil if needed then cook ginger and mushroom slices until fragrant then add in cabbage stems. Cook for a minute then add in cabbage leaves. Cook until the leaves soften a bit then push everything to one side of the pan.
Add oyster sauce to the empty side of the pan and spread out a bit with spatula and cook until boiling. This will enhance the fragrance of the sauce. Then mix everything with the oyster sauce.
Drain the rice cakes and add them to the pan and mix evenly. Add the pork sliced back in and mix well.
Let everything cook together for another minute or two. If the dish seems a bit dry, add in some of the hot water used to soak the rice cakes. The water will also help create a sauce.
Remove everything from the pan and sprinkle scallion strips over the top.