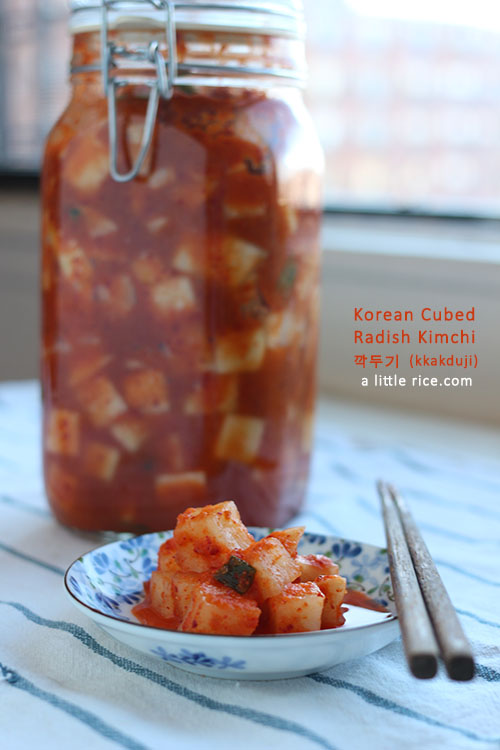 When we travel one of the best parts is experiencing and learning about new cultures. What I love even more is bringing home a little bit of the culture with us. Most often we develop a deep appreciation and grow attached to dishes that comes to signify the culture. And we try to replicate the dish and experience back home.
In Korea we fell in love with kimchi. We fell hard. The unique banchan sets at each meal in Korea perfectly complemented the main dishes and were totally indispensable. I ate kimchi for breakfast, lunch and dinner. And I couldn't get enough.
Ever since we came back from Korea, Radish Kimchi has become a stable in our meals. And kimchi promptly claimed a revered place in our hearts. Once home K set about collating and experimenting with Kimchi recipes. Yes, it's true, every kimchi recipe we found in books and the web were different. So what did Ken do? He experimented and created his own delicious version that is savory, briny, spicy and slightly sweet all at the same time. So so good. We already ate through a couple jars since we came home a few weeks ago.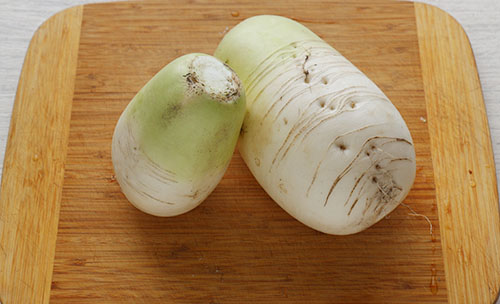 It does indeed take a long time to make Kimchi. After all the dicing, blending and mixing, the kimchi still needs to ferment at room temperature for 2 days before it's ready. But it's so tasty it's well worth all the trouble!
To make Korean Radish Kimchi, start with Korean Radish. It sounds simple, but the Asian supermarkets sell a variety of radishes – green radish, daikon, Korean radish. They each have subtle differences in taste and we prefer the Korean radish for this kimchi, which is greenish near the stem and white at the tip.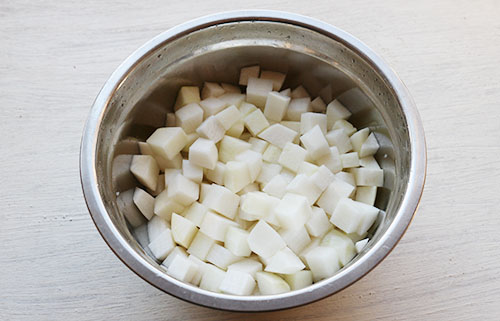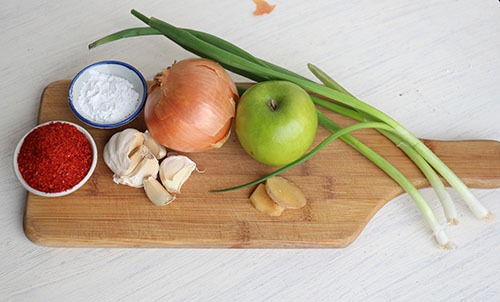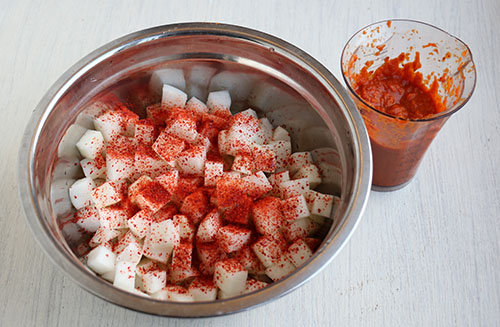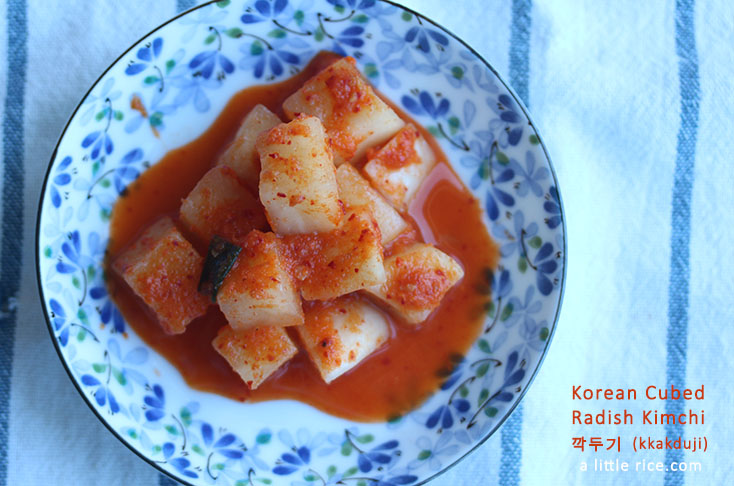 Korean Radish Kimchi

Makes 1 large jar, adapted from My Korean Kitchen's recipe
Ingredients
Set A
3 pounds Korean radish
1 Tbsp table salt (if using kosher or sea salt, double the amount)
1.5 Tbsp sugar
Set B
6 shallots (109g) or 1 small onion
2 Tbsp garlic
1 tsp ginger
2 tsp dried shrimp
1 small apple green or red, peeled and seeded (125g unpeeled)
Set C
1 Tbsp rice flour (not glutenous rice flour)
1/4 cup water
3 Tbsp fish sauce
2 Tbsp + 1 Tbsp chili flakes
3 stalks scallion
Directions
Peel and dice the radish into cubes. Mix well with salt and sugar. Let stand at room temperature for 1 hour.
While the radish is marinating, dice all the ingredients in Set B. Mix the 1/4 cup water and rice flour in a small bowl until flour is dissolved. Microwave rice flour mixture for 40 seconds so it becomes a white-jelly-like-paste. Then blend the rice-flour-jelly with the diced Set B ingredients, fish sauce and 2 Tbsp of chili flakes until it becomes a thick red paste.
Chop the scallions into 3/4 inch sections.
Drain all the juices from the radish. Make sure all the juices are well drained. Do not wash the radish.
Mix the radish, scallions, 1 Tbsp chili flakes and chili-rice-apple-paste together. Place kimchi into a clean dry jar.
Leave the jar of kimchi in a dark cool place for 3 days to ferment.
Refrigerate the fermented kimchi and eat to your heart's content!.